3 years ago today, I was here.
Paros, Greece.
Once I got here, I immediately understood that whatever lifestyle standards I thought I had, were unquestionably wrong. Whatever definition of beauty my eyes knew until then, destroyed. Whatever dreams of inner peace my heart longed for, were met with such ease it baffled me. All by this tiny Cycladic island in the middle of the Aegean Sea, of whom I've never heard before booking that trip.
Somehow, I made it a goal to bitch about the entire trip before my arrival in Paros.
Allow me to set the stage: I'm a fan of traveling alone, with my partner or in very tight, highly selective groups of humans. This was not going to be that type of trip. We were there with 20 other people that I barely knew or liked. Ugh. Chit-chat. Schedule sync up. Pleasantries. Not my way of doing vacay, people!
A direct flight was not available from my hometown. That meant an extra 5 more hours of travel by car until the airport. If you've ever been on the roads of Romania, you know that it's an eternity.
Then followed a 3 hour flight from Bucharest to Rafina, Athens, where we spent the night in order to hop on the earliest ferry to Paros. 5 hours by ferry. Departure at 7 am, sharp. Those types of hours mean another head will grow on top of my neck, the type that breathes fire and eats kids for breakfast.
The Airbnb accommodation at Rafina was as advertised. The small port was charming. The food was good, everything within walking distance, and the views, spectacular. My inner fire went from a 12 to a 7. Thank God. The next day, we rushed to the ferry we had booked online months ago only to see that the entire planet was boarding a ferry that particular morning, too.
We got to our seats on that ferry with several decks sandwiched together in what seemed to be a ginormous floating BLT sub and froze our asses off for the next few hours. The cafeteria was the only place where the AC was not acting like Elsa on steroids. Naturally, the entire population elbowed its way there and formed a kilometric line for coffee, croissants and peanuts. I was making angry notes to self about always having a fur coat handy. Always. Even when going to Greece in the middle of June. Can't mess with facts: AC will always find me.
One thing I didn't account for: what a 5 hour trip on sea does to my soul.
The infinite blues of the clear skies and waves washed all over my insides. Cleaned up the grays. The dark clouds that weighed my chest down. The ink-black anxieties that came along, uninvited, for the trip.
By the time I got to Paros, I was calm.
The island is pretty small, but we still had to take a bus for about 20 minutes to our hotel.
The people there were waiting for us with everything set up directly on the beach. Drinks. Food. I couldn't believe my eyes. A simple traditional hotel, with white walls and blue windows, right on the beach, with only 25 modest rooms was putting it all on the proverbial table. All of their hospitality. All of their unmovable simplicity. All of Greece for us to take in.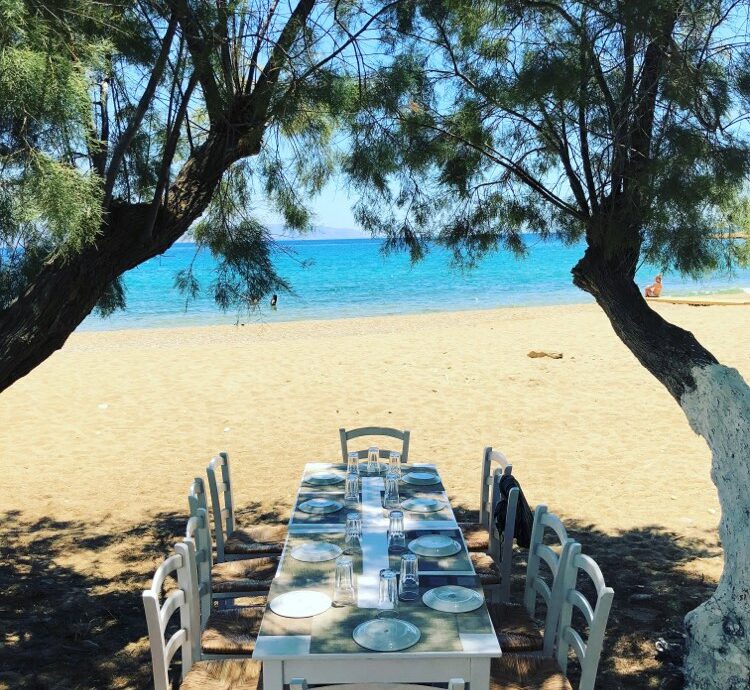 Our accommodation was near Piso Livadi, a tiny fishermans' bleep on the world's map that has the best fresh fish in Paros. We had a few taverns 5 mins away and all the peace and quiet a city girl can ask for.
Important note: upon sinking my teeth in all what Paros has to offer, I was a Greek virgin. I read the Legends. Saw documentaries and movies. But never step foot on the place where civilization began. So, mind my words: I am eternally biased when talking about Paros. Since then, I've traveled to Lefkada and Mykonos. But Paros will forever own a part of me.
Instagram was invented for Paros, the tiny island that has it all
So far, Paros remains the only summer destination in which the streets are as beautiful as the beaches.
There are 2 main towns on the island: Parikia – the capital, and Naoussa, the place to be for sightseeing, nightlife and getting lost, over and over again. How to get around Paros? Car or scooter. Rentals are decent, but the roads are narrow and could be dangerous at night. There's a local bus, too.
Wandering those streets is a dream.
Imagine a maze of white marbled streets, with coffee shops and bakeries at every corner, with pink floral arches draping almost every entrance. Taverns that serve food where land meets sea. The remnants of 15th century Venetian Castle that are slowly taken back by the sea. And the most amazing sunsets you'll ever see.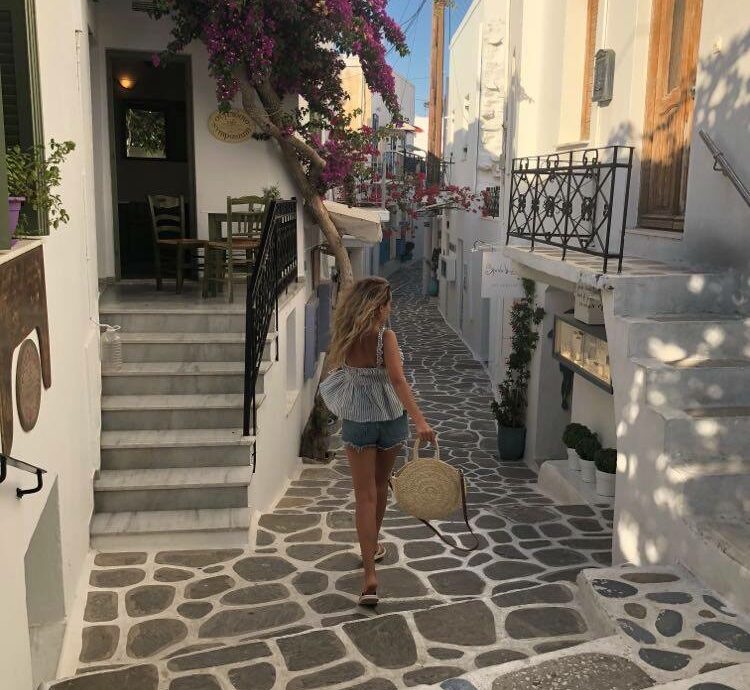 Paros was named the best island in Europe, twice
There are a lot of guides that pinpoint exactly what you should do while in Paros. I use Tripadvisor to choose where to eat and ask locals. Most importantly, I allow my steps, gut and senses to take me to cute places, instead of checking everything off a travel list. I want to feel the experience and make it my own.
I'm leaving you the list of things that made me wanna be an island girl for the rest of my days:
The local pubs are named after old sailors' legends – Barbarossa, Pirate Bar.
The best pizza I've had: Il Napoletano eat Napoli (the best pizza I've had so far, hands down! I'm keeping an open slot for the top for when I get to Napoli, but until then, this is it!)
Most instagrammable location: the Linardo Bar.
Paros wine? Must try!
Best beaches in Paros: Santa Maria, Golden Beach, Kolymbithres (my favourite: clear waters, with massive blocks of granite), Monastiri, Faragas.
Antiparos – the baby island reachable by boat is the playground of the rich and famous – the word goes, Tom Hanks and his wife Rita Wilson have a house on the island. And when we were there, people from my crew swear they have seen Matthew McConaughey on the narrow streets, for an afternoon run. Oh yeah, it has caves too and somehow, time seems to stand still there.
Ekatontapiliani Church – or "the church with the hundred doors"
Lefkes – one of the island's most beautiful villages. With a massive cathedral in the middle of the town and inviting corners everywhere you look
The only downside to Paros – the wind. It's really windy. So much so that trees are bent in one direction. If you're a windsurfer, it's paradise. If, like me, you get your fuel from sunbathing, it's not that pleasant. Also, nights can be chilly.
What to eat in Paros?
Anything! Once again, for the people in the back, anything at all!
Greek food is delicious, you can't go wrong. If you're a meat lover, go for gyros. With Tzatziki. If not, any vegetable dish with tzatziki. And another serving of tzatziki for the table. Talk to people, they'll recommend the good stuff – despite the fact that English is not a language they actually speak, they'll go out of their way to please you. There's all the seafood you can dream of, the fish is fresh, the calamari is heavenly.
You usually get free dessert, that's mostly fruit or something light to sweeten the deal. You'll promise yourself that you'll never eat that much, ever again. But you'll find yourself stuffing your mouth with their delicious food 7 times a day and promise that once you're done with the island life, you'll get back to eating salads for the rest of your life.
Greek yogurt is the real deal – try the local breakfasts that include yogurt, nuts and honey. Your life will change with the first bite.
Following that dark path of diary (the mother of all bodily inflammation) feta is life. Just saying. And they do all sorts of things with it.
What I'm trying to say is that life is short. So book that trip.
Go to Paros (or insert the name of the fab destination you've been dying to visit). Brag about it. Take 54748 selfies because the light in Greece is better than anywhere else. So's the food. The people. And the beaches. Greece is an experience.