Mykonos is one of the most popular destinations in Greece.
Everybody knows that. The parties are legendary. The views, narrow white streets that make every corner look like a postcard from heaven, the epic sunsets and turquoise waters seal the deal. There's an official mascot of the island – Petros, the pelican – that wanders across the streets and is not bothered by cameras or people sharing the stage with him for a brief Instagram moment. What can be more authentic than that?
From the moment you land on the island, you know you're in for something amazing (the airport is tiny, but built just like any other traditional Mykonian house). The airport is just 10 minutes away from Mykonos Town, the place where all the action is. There are busses and private taxis that will take you wherever you want to go (if you still have it in you, my advice is to wait for the bus, the local taxis charge $5/person to take you downtown).
I've had my heart set on visiting Mykonos ever since I traveled to Paros and fell in love with the Cyclades islands.
The scenery, people, food, endless island life vibes that enchants your every sense. Really, I never stood a chance. I don't know who could. Naturally, I wanted a do-over, so I convinced my friends to accompany me to Mykonos, for our next destination. They happily obliged. We stayed for 7 nights in the middle of July right in Mykonos town.
What to expect when traveling to Mykonos?
A quick search on Google will tell you all you need to know about the island. It's crazy fun. It's literally a playground of the rich and famous. It's full of fabulous gay men that know how to party and countless groups of young people looking to have the time of their life.
It's pricey – think 30%-40% more than you'd spend on any other Greek island.
The premium prices are everywhere, from the accommodation, restaurants, sun beds and beach bars entrance fees. Just to give you an idea, beach clubs like the super stylish boho-chic dream named Principote had 2 sunbeds for 120 euro. The cheapest cost per 2 sunbeds on a Myknonian beach was 30 euro. Cards are accepted all across the islands. The currency is euro.
Totally not expected on our part: reservations.
It might be because we traveled there in the middle of high-season and there were tons of people swarming the island, but even so, regular things like dinner at a restaurant downtown, spending the day at one of the famous beach clubs or having lunch on the beach required prior reservations. We were turned down a lot, so it might be a good idea to check out the places you'd like to go to and make arrangements ahead of time – one or two days in advance, just to make sure you're not going to miss out on anything.
Weather: hot & dry in the summer. Mild temperatures in the winter. Constant and powerful winds. Mid-May through Mid-October weather is almost always sunny and beach-worthy.
Where to eat in Mykonos?
When in Greece, choose local cuisine, you won't regret it.
We went to Joanna's Nikko Tavern for super fresh seafood and local dishes. It's located on a public beach, just 10 minutes by foot from the bus stop at Fabrica Mall. Perfect location for some peace and quiet, for taking in the scenery and for ordering everything on the menu without going broke.
It's run by a family, the dishes are simple and delicious and the people have not lost their will to please their customers. We had lunch there a couple of times, adding this restaurant as a regular stop on our way to the beach. One time, they forgot about my order, apologized 3 times in a row, brought it in a blink of an eye and gave us 2 desserts on the house, to make up for their mistake. Hospitality and humanity at their finest.
We looooved Pasta & Pizza Fresca Casa di Giovanni! Totally adored it, everything we ordered was insanely good, the house wine and dessert – tarta di casa giovani – to die for! (I live for desserts, but when faced with food that is so yummy that you end up stuffing your face with far more than you need, like I did in Greece every single night, there was no room for desserts. So, dear foodies, if you're anything like me, think ahead, especially if you go to this restaurant. Trust me!)
An overall elegant dining experience and the best medium rare Beef Tagliata Black Angus can be found at Aglio E Olio – nature sounds, jungle vibes and great seating.
Since you're in a fabulous place like Mykonos, please keep in mind that there are tourist traps.
Little Venice, the Old Port – these are the places where you'll be charged extra just because of the location. Mind you, I'm not saying it's not worth it. But if you're willing to stray off the beaten path, you'll find amazing places to eat. Use Trustpilot, guys! Ask your host, the hotel reception or locals. They'll point you in the right culinary direction.
The guys were set on finding the best gyros on the island so we tried a Souvlaki story, Jimmy's and Sakis. The verdict? A tie! They all delivered and they all have cheap eats that you can grab and go.
Wherever you end up, a word of advice: life's better with tzatziki. And stuffed eggplant. Or grilled octopus. You got the idea.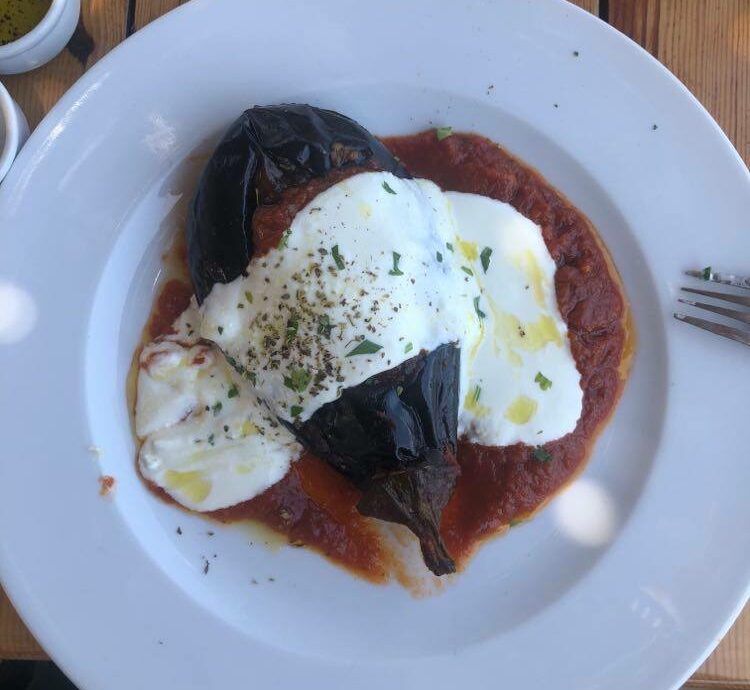 How to get by in Mykonos?
There are tons of rental places. We chose a scooter for 20 euro per day. A quad was 30 euro per day, a buggy was 120 euro/day. The roads are narrow, and the traffic can get intense. Since it's a relatively small island, you're always 30 minutes away from any destination, no matter how far.
The most popular beaches are not near Mykonos town, so you'd need a means of transportation to get you out and about. You'll need a motorcycle license and/or an international license.
What are the best beaches in Mykonos?
I'll probably upset a ton of people, but Mykonos' beaches all look the same to me. Almost. I'm saying this in comparison with other Greek islands, like Lefkada, where every beach is more impressive than the other one, where one is framed by a huge cliff or it's only reachable by boat and is completely wild.
In Mykonos, when you say beach, you immediately say beach club. And parties. Exclusive, wild, fabulous parties, right on the beach. Music that blasts your ears off from the entrance. Receptions that look like a 5 star hotel awaits behind the closed door. Extremely fashionable beach outfits – I'm talking lace, crochet bikini cover ups, intricate swimsuits with layered jewelry. It's not your ordinary trip to the beach. When in Mykonos, you have to up your beach look. It's a must. Boho-chic is the way to go.
Paradise, Super Paradise (the most gay-friendly beach) and Paraga Beaches are the main party beaches – they're young, busy, lively. After sunset, it just gets crazier. You'll be seeing groups of young people (damn, I sound old!) coming to the beach. The neon lights are turned on. The flashbacks of your teen years come to mind and
Ornos and Platis Gialos are great for families and couples – the water was amazing!
Fokos beach – A quiet, secluded and nudist friendly beach. No tourist facilities, but there is an amazing taverna just off the beach. Everybody just minds their own business, it's super peaceful.
Ftelia Beach – windsurfer's dream. There's a private beach & restaurant – Alemagou – the prices are pretty insane, but the place was secluded, tamed and beautiful.
Kalo Livadi – located in the South-Eastern part of the island, approximately 9km from the Chora. White sand and shallow, calm water – the perfect way to end the last day of fun in the sun at Mykonos.
We even went beach shopping on 2 of the days in which we woke up a bit earlier than noon – (yeah, I know, I know, but that's just how I vacay, people!). We took the scooters for a ride down the shore line and stopped wherever our hearts desired.
Full disclosure: we did not go to the legendary Scorpios beach club. I still have mixed feelings about this.
All things considered, I'd recommend Mykonos to all people in search of a lavish party destination. It's not suitable for families with kids or people who are craving peace and quiet. The island is alive, people! And awake. 24/7.
There's something about Mykonos
An energy. A vibe. An extra nudge that makes you put on red lipstick and that knockout little black dress. Something that makes you stay up a bit later at night. Do crazy things. Order a second dessert. Or dance on the streets instead of a club.
Due to Covid-19 restrictions, the music had to be shut off on the entire island while we were there. What did the people do? Walked around with a boombox and portable speakers and took the parties to the streets. There was no stopping it. The island demands it, somehow. It pushes you out of your shell. It's a parade, a wild dancing experience and a one night stand, all in one.